Covid-19 Automotive Sales Procedures
Sunset responds with 'Sunset is Safe' Initiative
Governor Inslee has unveiled a four-phase plan to reopen Washington State's Economy. Phase One states that automotive dealers can resume retail delivery of New and Used vehicles under strict safety requirements. After careful review of these policies, Sunset Auto Family has developed a process that meets and exceeds State Requirements and CDC Recommendations. This 'new normal' is a part of our Sunset is Safe initiative and designed to keep you and your family healthy & safe while servicing your automotive needs. If you are looking for information on our current procedures regarding vehicle service, parts or maintenance, please follow this link to our Sunset is Safe Service Procedures. This page is updated regularly as new information becomes available and we move through the state's Four-Phase Plan. Last updated 9/1/2020. In an effort to help prevent the spread of COVID-19, our staff will have their temperature taken prior to beginning work. Anyone displaying symptoms will be asked to return home until they have been evaluated by a health care provider. We will need your help to make the next part happen. State regulations mandate all persons, staff and customers, must wear a face covering in public spaces and maintain a minimum six-foot distance between people at all times. During your visit to the dealership, we ask that you respect state guidelines and wear a face covering.
Showrooms & Service Waiting Areas are now open to anyone following state guidelines on social distancing and face coverings.
Here is a breakdown of what to expect when buying a new car during Phase One
Vehicle Research & Inventory Selection Our showrooms are now open, and we can assist you in person with vehicle research and inventory selection. We ask that you please wear a face covering at all times during your visit & maintain six feet of social distance whenever possible.
Test Driving At this time, sales representatives are not able to join you on your test drive. They will be available before and after to answer any questions you have. Please have your driver's license and proof of insurance ready prior to your test drive.
Vehicle Appraisals If you plan on trading in a vehicle, you are welcome to save time and start the process online. If you choose to start online, one of our Internet Response Team members will contact you to confirm details of your vehicle, provide an estimate based on those details and set an appointment for a full appraisal if necessary. You are also welcome to stop by our dealership anytime during normal business hours for an appraisal.
Financing & paperwork - If you plan on leasing or financing your vehicle, you will need to complete a credit application online. A staff member will be available to guide you through the application over the phone, via two-way video conference or in person at their desk if you would like. Once Financing is secured, you will have the opportunity to review warranty and maintenance package options with our finance manager. Once all your financing and secondary warranty decisions are made, we will prepare your final paperwork. Physical signatures are required by the State of Washington for all automotive transactions (even cash deals). Paperwork can be brought to you or signed at the dealership at the time of delivery.
Vehicle Delivery - Sunset is Safe interior vehicle treatmentWhen it is time to pick up your new vehicle you will need to schedule an appointment for either pick up at the dealership or delivery to your home. As a part of our Sunset is Safe initiative, every vehicle is treated with an EPA-approved hospital-grade disinfectant fog that provides lasting anti-microbial benefits for up to 30 days. This treatment kills 99% of bacteria, viruses, mold and other microbes and is applied to the entire interior of the vehicle. It is odorless and hypoallergenic so you will not even notice it is there once dried.
Afterwards, how to use the features of the vehicle will need to be explained remotely as we are unable to be inside the vehicle with you at any point during the delivery or test drive. We are able to provide two-way video assistance to help teach you how to make the most out of our new vehicle. Thank you for your understanding and cooperation during these difficult times. Although many of these measures may seem over the top, they are in place to help protect the health and safety of everyone who comes to a Sunset Auto Family Location. If you would like even more details about steps we are taking behind the scenes, please check out the Washington State COVID-19 Requirements for Vehicle Sales.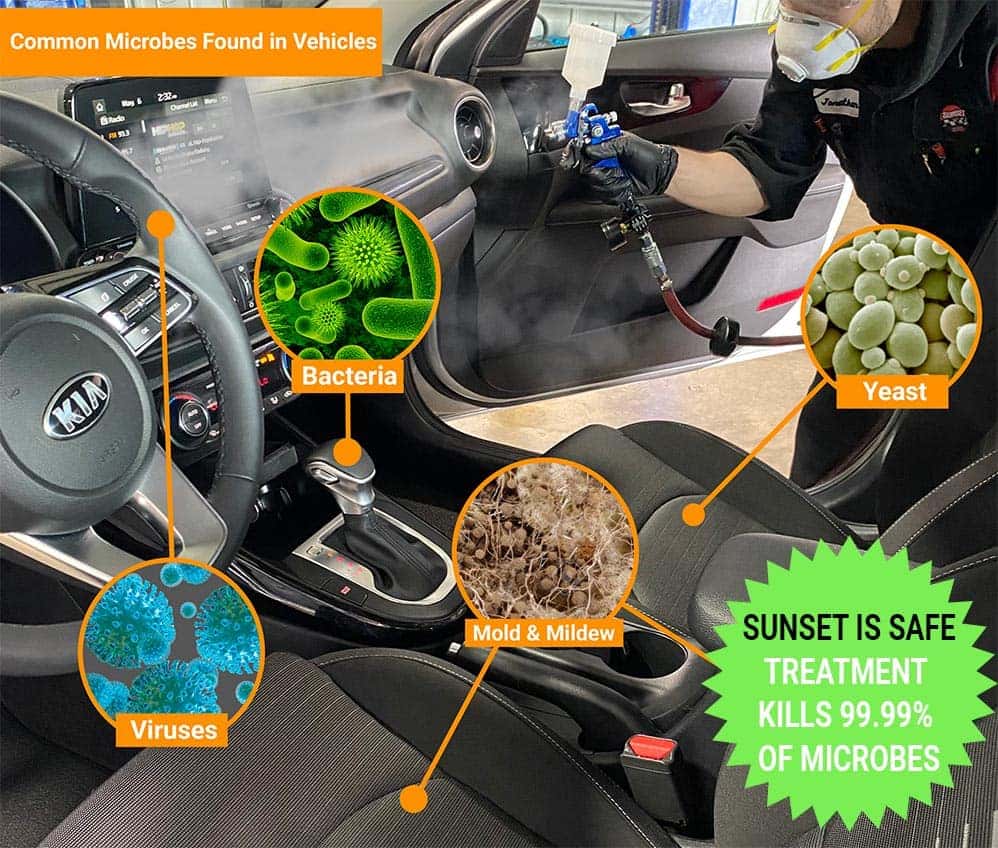 Mon - Sat

9:00 AM - 8:00 PM




Sun

10:00 AM - 7:00 PM



Mon - Fri

7:30 AM - 6:00 PM




Sat

8:00 AM - 5:00 PM




Sun

Closed